'Tis the season for goal setting. While brainstorming New Year's resolutions can be fun, making them last is more impressive. It's said that 36% of people ditch their good intentions as early as February. [1]  What we've found is that the less rules you have about how something is going to be achieved, the more likely you are to stick with it.
Today, we're sharing five resolutions for health and happiness in 2023, and how to keep them.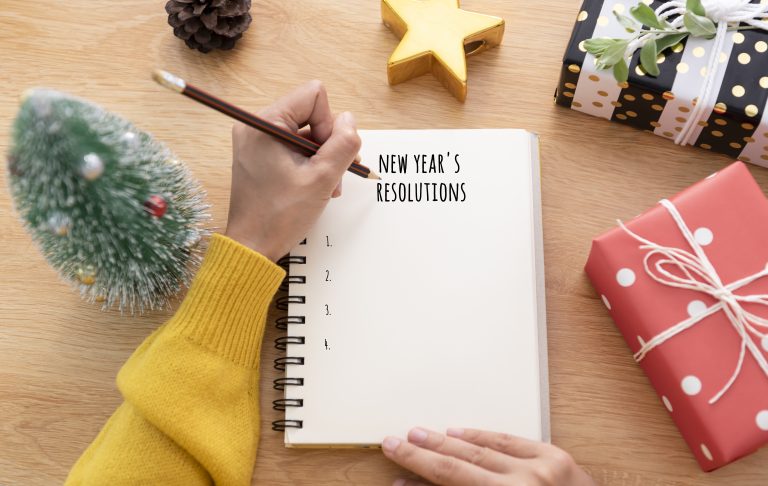 HOW TO KEEP NEW YEAR'S RESOLUTIONS
If you've ever given up on New Year's resolutions, you're not alone. Goals, especially healthy habits, aren't easy to achieve when you make them on the fly without any real plan of action. The best way to keep your New Year's resolutions is with these tips:
Give yourself wiggle room – The more flexible you can be with your progress, the better. For example, saying you're going to read 10 pages every day may be too restrictive. Committing to 70 pages per week gives you room for success without setting too many guidelines.
Think back on the year – We tend to make resolutions just because we think we should. This usually results in something you're not extremely passionate about. Instead of jumping to conclusions, think back on the year. Was there anything you really enjoyed and could do more? Maybe there are a few things you thought about picking up, but never did. Those are great probing questions to help set a resolution you may keep.
Don't get thrown off easily – If you miss a day or week of staying on track, don't let it throw you off completely. Try and identify what it was that led you astray, and hop back to it.
5 RESOLUTIONS FOR HEALTH & HAPPINESS IN 2023
If you do want some ideas for 2023 New Year's resolutions, here are five ideas:
18 Minutes of…
If you're really hesitant about committing to something, try the 18 minutes rule. Everyday, commit to doing something for 18 minutes. It can be tidying up, playing an instrument, going for a run, anything. This will keep things fun and interesting while still sticking to a goal.
Rise with the sun
For anyone that's been wanting to get on a better sleep schedule, rising with the sun is a great goal. If you wake up anytime after 8 AM, it may be a good idea to start small. Set your alarm for 5-10 minutes earlier each day until you get to sunrise.
Slow down
This is a great resolution for anyone that's often on go, go, go mode. Not all healthy habits are about doing more, but they can also mean doing less. If you're someone who always has a packed schedule, make a habit of retreating in your everyday life. Walks, reading, painting, and stargazing are all great ways to do so.
Get outside everyday
Getting outside everyday is such an attainable goal. If you want a low hanging fruit resolution, this is the one for you. Commit to getting outside, taking a few deep breaths, and putting your skin to the earth. This can look like going barefoot, playing in the sand or mud, or simply laying in the grass.
Say thank you
You probably think you already do this. Instead of polite thank you's, though, try to incorporate thank you's into not-so-pleasant situations, too. We believe everything happens for a reason, and nothing is an accident. Even if your tires go flat on the day of a big presentation, try and find the silver lining and seal it with a thank you. A small dose of gratitude will have a big impact on your mood and resiliency.
* Banner image by @benzoix