Spring has sprung, and we're celebrating with a delicious sweet treat. Not only does the warm weather make cool desserts, like milkshakes, more exciting, but the floral essence of the change of seasons does too.
Today, we're sharing a delicious spring milkshake recipe—one that's chocolate Dandy Blend rose flavor. It's rich, creamy, and has the perfect hint of rose to help you welcome the new season.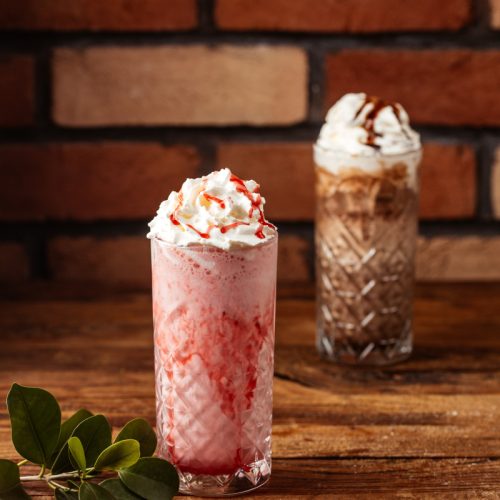 The Key to Perfect Milkshakes
It takes a little more work, but the key to the perfect milkshake texture is starting with a frozen base. Since this is a chocolate milkshake recipe, we're using chocolate milk. If you prefer, you can use unflavored or vanilla milk. All you need to do is line an ice cube tray with your milk of choice, freeze overnight, and use the cubes as your base.
Spring is all about blooming flowers and fresh starts. To honor this, we added a floral twist to this milkshake recipe. Rose pairs really well with chocolate, so we're using rose water and an option for edible rose petals to enhance the flavor. If you prefer a vanilla base, we suggest swapping the rose water for our lavender simple syrup.
This recipe is so easy, you'll be enjoying Dandy Blend milkshakes all spring long. The directions outlined below makes one serving, but you can easily double or triple it to enjoy with friends and family.
Recipe
Spring Milkshake Ingredients*:
1 cup chocolate milk of choice
1 teaspoon Dandy Blend
½ cup – 1 cup coconut or heavy cream
2 tablespoons maple syrup
¼ – ½ teaspoon rose water
Optional: edible rose petals
Directions:
Pour chocolate milk into an ice cube mold, and let freeze overnight.
Add frozen cubes, Dandy Blend, cream, maple syrup, and rose water to a blender, adding more cream as needed.
Stir in rose petals, if using, and enjoy.
*You can easily double or triple this recipe.
Happy Sipping!
To shop Dandy Blend and all our dandy offers, visit www.DandyBlend.com/shop.
*Disclaimer
Dandy Blend is not a supplement or medicine. Any health related questions or concerns, we always recommend consulting with your primary care physician.
*Banner image by @freepik