There's nothing more that we love than hearing how much you love Dandy Blend. Whether you're new to our delicious coffee alternative or are an OG customer, thank you. To make sure you have the best experience possible, we thought we'd share our go-to tips for making sure your Dandy Blend is fresh whenever you want it.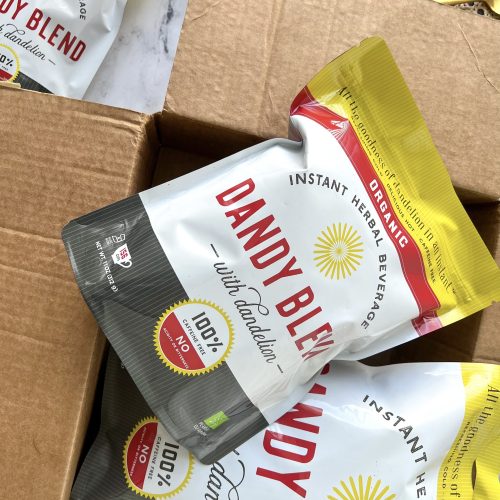 Best Ways to Store Dandy Blend
The first and most important tip, no matter what storage container you use, is to keep your Dandy Blend in a cool, dry place. This will ensure no moisture is created or sneaks into the powder.
Now, the best storage for freshness is one of two ways. The first is to keep it in the package it was delivered in. Our bags were designed to be moisture-proof when sealed properly. This means making sure the top seal is closed securely and tightly from end to end. To ensure freshness, avoid rolling and clipping the bag, as air and moisture can still make their way in.
The next best option is to transfer your Dandy Blend to an airtight container. This means it has a tight-fitting lid. A great example of this would be a Weck jar, and a not-so-great example of this would be a plastic container with a loose, flimsy lid.
No matter how you store Dandy Blend, you may come across some hard clumps at some point. This is normal, and you can use them in a number of ways. The first option is to gently break it apart with a fork, which will likely result in smaller mounds that you can use as normal. The second option we like is to make a Dandy Blend concentrate. Simply add the mound to warm water (the amount will depend on the size of the clump) and save it to enjoy iced Dandy Blends or as a base for your smoothies. Another option is to freeze the concentrate for ice cubes in your Dandy Blend, smoothies, and more.
What's your favorite method of storing Dandy Blend? Post about it on Facebook or Instagram and tag us @DandyBlend. We'd love to know.
Happy Sipping!
To shop Dandy Blend and all our dandy offers, visit www.DandyBlend.com/shop.
*Disclaimer
Dandy Blend is not a supplement or medicine. Any health related questions or concerns, we always recommend consulting with your primary care physician.
*Banner image by @vectorpocket