Hearing orange juice and coffee in the same sentence may make your stomach flip, but it's kind of like dipping a french fry into a milkshake—don't knock it until you try it. Our version, of course, swaps the orange juice and coffee for orange juice and Dandy Blend. It's tastier in our opinion, contains zero caffeine, and you can enjoy it at any hour of the day.
In today's blog, we're sharing a delicious and unlikely recipe of combining orange juice with Dandy Blend to make an OJ "Coffee" tonic.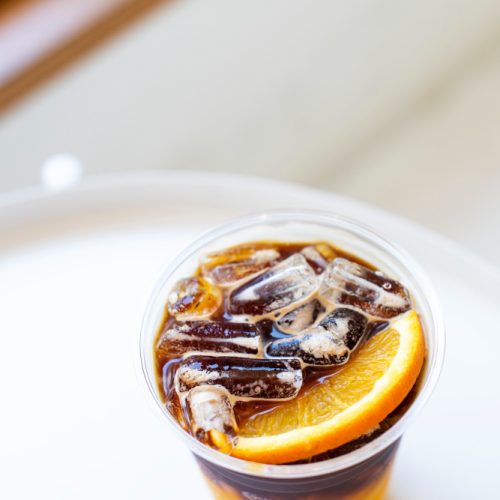 How to Make OJ "Coffee" with Dandy Blend
This is a very simple recipe, and only requires a few ingredients—Dandy Blend, water, orange juice, sparkling water, and ice. The first step is to prep your "coffee" layer. This requires a teaspoon of Dandy Blend and about one half cup of cold or room temperature water. Simply add the two together and set aside. If you're making fresh orange juice, that would be your next step. Once complete or if using store-bought, simply gather the rest of your ingredients and start to combine them like so: In a glass, add as much or little ice as you prefer. To make the drink look pretty and photogenic, be sure to layer it as outlined. Otherwise, it doesn't matter. Start with the orange juice, as it's the most dense liquid in this recipe. Next, follow up with the sparkling water. Lastly, gently pour your Dandy Blend over the top and watch it trickle down the glass. Snap a picture if you'd like, then give it a good stir and enjoy. It's the perfect refresher on a warm summer day.
Recipe
OJ "Coffee" with Dandy Blend*:
1 teaspoon Dandy Blend
½ cup cold or room temperature water
½ cup freshly squeezed orange juice
¼ – ½ cup sparkling water
Ice
Directions:
Prep your "coffee" layer by adding Dandy Blend and water to a cup. Set aside.
Fill a glass with ice, then layer with orange juice and sparkling water.
Add the Dandy Blend, stir, and enjoy.
Happy Sipping!
To shop Dandy Blend and all our dandy offers, visit www.DandyBlend.com/shop.
*Disclaimer
Dandy Blend is not a supplement or medicine. Any health related questions or concerns, we always recommend consulting with your primary care physician.