If you've been wanting to try Dandy Blend—a delicious coffee alternative—but don't know where to start, you're in the right place. While you can't go wrong with any of our offerings, we're here to make sure you purchase the one that's just right for you and your family's preferences and lifestyle.
The three products we'll be breaking down today are Dandy Blend, organic Dandy Blend, and single-packet Dandy Blend.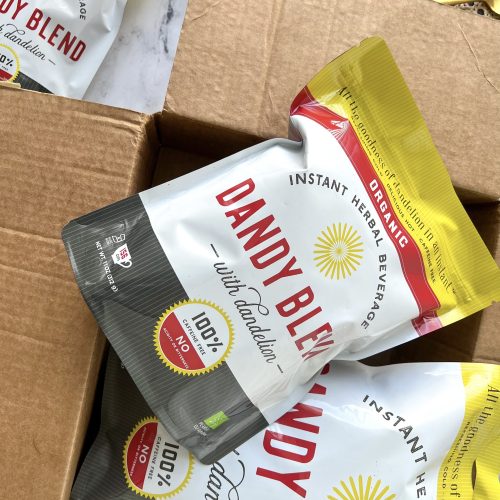 What is Dandy Blend?
Dandy Blend is a delicious caffeine-free coffee alternative with dandelion root as our star ingredient. It's made with a combination of roasted rye, barley, dandelion, and chicory root extracts. We love enjoying Dandy Blend as an alternative to caffeine for many reasons. Not only does it contain vitamins and minerals, polyphenolic compounds, and anti-hyperglycemic-exhibiting effects, but you don't get the crash or jitters most caffeinated beverages create. [1]
The thing that surprises people most is that Dandy Blend has a similar flavor profile to coffee. It has a comparable aromatic, robust smell, and taste. This makes it a very simple swap in your favorite coffee drinks. You can enjoy Dandy Blend "black", as a shot, in a latte, iced, or even sprinkled on ice cream.
Dandy Blend Coffee Alternative Options
The best way to determine which Dandy Blend is right for you is to ask yourself two simple questions.
Question 1: Do you have a preference for organic goods?
If the answer is yes, our Organic Dandy Blend is perfect for you. It comes in two sizes–50 servings (3.5 oz) and 156 servings (11 oz). If you want to stock up or have Dandy Blend on hand for an event or celebration weekend, consider our cases which include 6 – 12 bags of your size of choice.
Question 2: Are you always on the go?
If you're constantly on the go, our Dandy Blend individual serving packets are a game-changer. They come in perfectly portioned (1 tsp) packets that tear easily, and can be stored just about anywhere. They easily dissolve in cold and hot water without needing a frother so you can enjoy Dandy Blend wherever you are. You can purchase a box of 25, 250, or a case of six 25 packets.
If you don't have a preference for organic goods and don't need single-serve packets, our standard Dandy Blend is for you. It's our original non-GMO blend (as all sizes) that put our dandelion coffee on the map. It's available in our largest bags at 100 servings (7.05 oz), 200 servings (14.1 oz), and 454 servings (2 lb).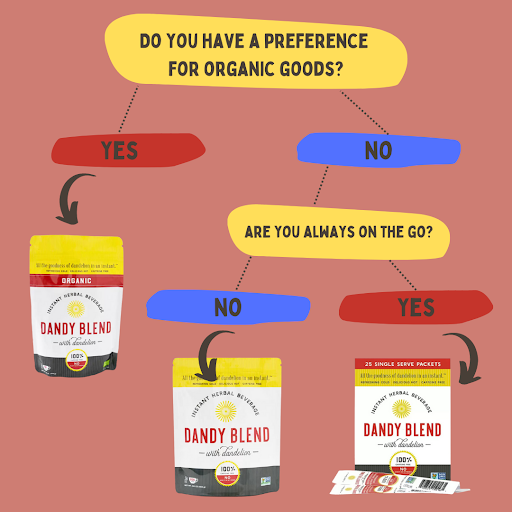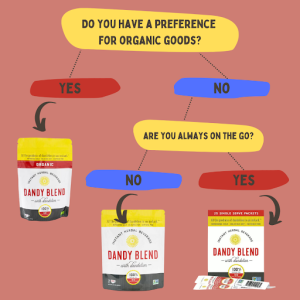 Happy Sipping!
To shop Dandy Blend and all our dandy offers, visit www.DandyBlend.com/shop.
*Disclaimer
Dandy Blend is not a supplement or medicine. Any health related questions or concerns, we always recommend consulting with your primary care physician.
*Banner image by @vectorpocket