With holidays upon us and travel plans ramping up, we thought it would be the perfect time to share our favorite ways to use Dandy Blend travel sticks. Whether you're going down the street to your friends' house or flying across the country to see family, you can take Dandy Blend with you.
What Are Dandy Blend Travel Sticks?
Dandy Blend travel sticks are individual packets of Dandy Blend, perfectly portioned into one teaspoon. The packaging is nice and compact for traveling, and includes a perforated end for seamless opening. They're perfect for taking on the go, and can be conveniently stored in purses, diaper bags, and large wallets.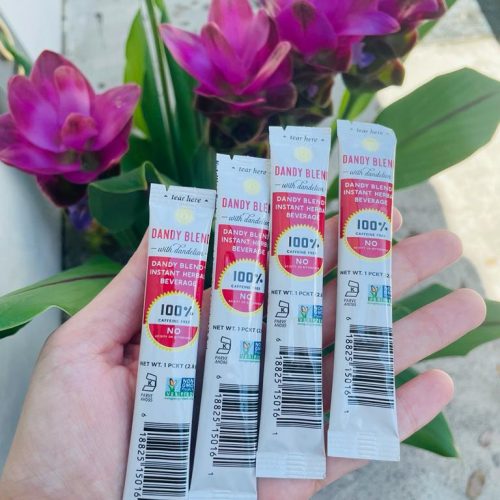 3 Ways to Use Dandy Blend Travel Sticks
There are unlimited ways to enjoy your daily dose of Dandy Blend, but we thought we'd share our three go-to ways to use our travel sticks when out and about.
1. If You Like it Black
The easiest, most straightforward way to enjoy Dandy Blend is in water. The best part is that Dandy Blend is water-soluble, so you can enjoy it in hot or cold or even room temperature water and it will dissolve completely. Start with a cup or bottle of water that's readily available, or stop into the nearest coffee shop and request some water to your preferred temperature. Next, add your Dandy Blend into the water, stir or shake gently, and enjoy. It truly is that simple. You can always add some milk, cream, or honey—however you would ordinarily enjoy coffee.
2. For A Quick Snack
One of our favorite, quick, ways to enjoy Dandy Blend while traveling is in oatmeal. You can add Dandy Blend to your own hot or overnight oats, or grab a quick-cooking oats bowl from your local grocery store or cafe. Whenever you add the water or milk to your oats, add in one travel stick (or two, depending on serving size). All you have to do is stir it all together, let it soak or sit overnight, and then it's ready to go. We especially love adding Dandy Blend to oatmeal made with chocolate, bananas, or cinnamon and raisins.
3. In A Sweet Treat

As the temperatures drop, drink temperatures tend to rise. This winter, experiment with adding one of our Dandy Blend travel sticks into your next hot chocolate. It will add a slightly aromatic, coffee-like taste to your hot chocolate without the unwanted caffeine. Plus, it's delicious. Whether you enjoy a homemade cup of hot chocolate or buy one out in town, just sprinkle one Dandy Blend travel stick in, give it a quick stir, and top with whipped cream if you want to make it extra festive. It's such an easy way to elevate a holiday classic, you'll be so glad you had Dandy Blend on hand.
If you try any of these Dandy Blend recipes, tag us on all socials @dandyblend. We love seeing your creations.
To shop Dandy Blend and all our dandy offers, visit www.DandyBlend.com/shop.
*Disclaimer
Dandy Blend is not a supplement or medicine. Any health related questions or concerns, we always recommend consulting with your primary care physician.