Hosting Thanksgiving is no small feat. There are seemingly a million and one tasks to prepare for the day, not including the cooking. It's a lot of stress for one person, or even one household, to juggle. Our goal with today's blog is to help alleviate some of the pain points of hosting Thanksgiving dinner. We're offering five of our go-to hosting tips, including our favorite accessory for cooking food to perfection while saving time.
The Balancing Act That is Thanksgiving
Thanksgiving dinner is one of the most special and time-consuming meals of the year. There's a lot of brainstorming, planning, setting up, and breaking down involved. We are so appreciative of all of our incredible Dandy Blend community members that we want to give you some hosting tips to make your special day run smoothly. These are some of our tried and true hacks we've used over the years, along with one very special new tool you'll find us using for almost every meal, including Thanksgiving. Give them a read and let us know which ones you plan to try this year.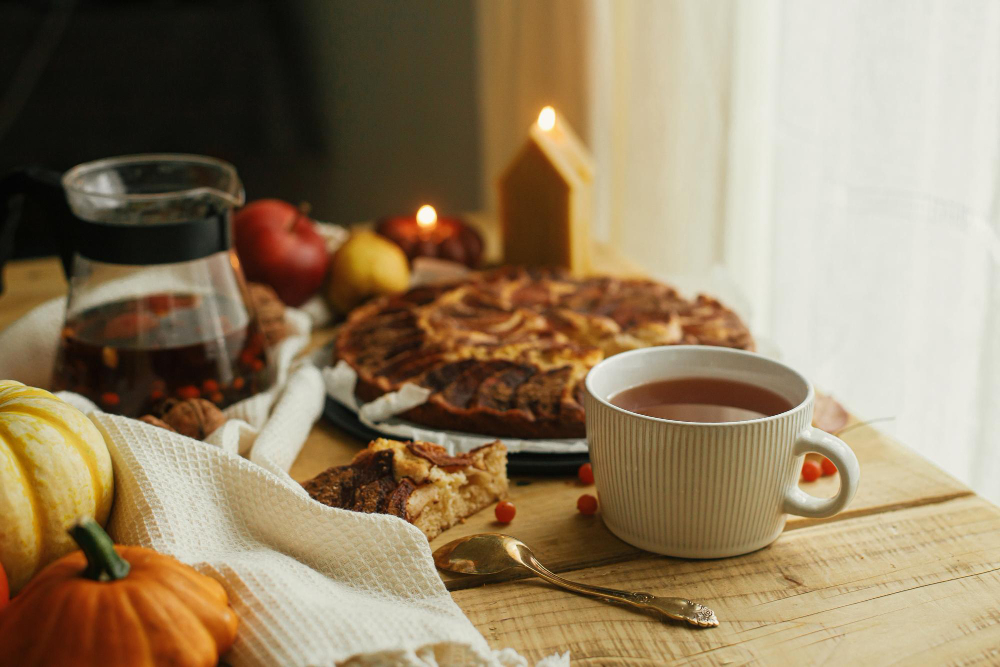 5 Ways to Make Thanksgiving Dinner Run Smoothly
1. A Buffet Station
Having a buffet station set up instead of a family style meal can make things run smoothly. It helps avoid people getting up and down to make room for large bowls, interrupt conversations to request a dish from the other end of the table, or sheepishly avoid taking the last bite of something. A buffet station gives your guests the freedom to get up and help themselves to seconds, not disrupt the flow of storytelling, and they don't have everyone watching them waiting to pass an item down.
2. Let People Help
If you typically have trouble asking for help, see if you can show yourself some love this holiday season by allowing people to pitch in. We'd bet that 100% of the time it makes guests feel better to help cook, clean, or set up in any way that takes a load off of you, the host. It can even be as simple as texting or emailing a few close friends or family members three items you would like them to handle. You can even specify what it is and where to get it if you want more control of the menu. Give it a try and watch your stress melt away.
3. Get the VIVID Air Fryer

This first-of-its-kind air fryer by Kalorik® is the one kitchen accessory you need to make your busy day go smoothly. It cooks food to perfection with the help of its high-definition, full-color screen with side selectors, which includes 202 pre-programmed cooking times and temperatures. Take the guesswork out of preparing food items and avoid wasting precious time on a task-filled day. It offers four languages, and is made with stainless steel—not plastic! Let VIVID™ do the cooking for you this Thanksgiving to make more room for family time.
4. Prepare Dandy Blend Ahead of Time

Anything you can prepare a day or two ahead of Thanksgiving is a great idea. Dandy Blend is so simple to have ready to go, and everyone loves it. Simply double, quadruple, or even ten times the serving size you normally make of your Dandy Blend, and store in the fridge until ready to serve. If you prefer to enjoy Dandy Blend hot, you can prep it the morning of and store in a carafe to keep it warm. Set up cups and creamer, or milk and honey, for guests to help themselves.
5. Use Biodegradable Kitchenware

We get it, not everyone likes the look of paper or plastic kitchenware. We don't love the idea of single-use paper or plastic, but if you have a compost and want to save on dish-washing, opt for a biodegradable plate set. You can still use metal utensils if you'd like. Allowing guests to simply toss their plates full of scraps in your compost will make everyone's life easier. No one gets left alone cleaning dishes, or incorrectly loading your dishwasher—just quick, easy, earth-friendly tossable kitchenware.
Cheers to your Thanksgiving!
To shop Dandy Blend and all our dandy offers, visit www.DandyBlend.com/shop.
To shop Kalorik's VIVID air fryer, visit https://www.kohls.com/product/prd-6394340/kalorik-vivid-7-quart-full-color-display-air-fryer.jsp
*Disclaimer
Dandy Blend is not a supplement or medicine. Any health related questions or concerns, we always recommend consulting with your primary care physician.
*Banner image by @freepik