There's nothing more fun than baking with your little ones, and nothing more unsettling than watching them dip their fingers in the raw dough to enjoy. While cookie dough is delicious, it's difficult to tell kids not to eat it as they watch you lick the dough-covered spoon time and time again.
To help you out, we made a delicious kid-friendly edible cookie dough recipe that doesn't contain eggs, has a dash of Dandy Blend, and only takes just a few minutes to make. This way your kids can enjoy a tasty cookie dough without worrying about raw ingredients.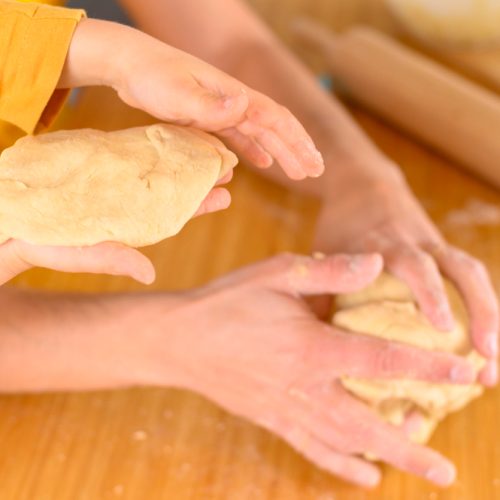 How to Make A Kid-Friendly Edible Cookie Dough Recipe
Making this delicious egg-free cookie dough couldn't be easier—so easy that your kiddos can help you whip it up. First, start by letting your butter come to room temperature. You can do so by letting it sit on the counter for about 30 minutes, or you can microwave a bowl and cover the butter with it for a few minutes. Either way, you want your butter to be soft enough to mix without clumps. We used grass-fed cow butter for this recipe, but you can also sub for vegan butter or coconut oil—note that the oil will give it a coconut flavor and different texture.
Next, gather your remaining ingredients. You'll need coconut sugar (or sweetener of choice), vanilla, salt, Dandy Blend, flour, milk of choice, and mini chocolate chips. For the flour, you can use gluten-free flour or almond flour. If you substitute with coconut flour, note that it will absorb more of the moisture and you'll need to add more milk. This substitute will also give the dough a coconut-y flavor.
Mix the butter and sugar, then add vanilla, salt, and Dandy Blend until combined. Sprinkle in the flour and fold until a crumbly, even-colored consistency is achieved. Pour in the milk, one tablespoon at a time, adding more if needed, until you get a smooth dough. Lastly, add in the chocolate chips, combine, and refrigerate for about thirty minutes, then enjoy. You can eat it by the spoonful or use it as a dip for cookies, graham crackers, or fruit.
Recipe
Kid-Friendly Edible Cookie Dough Ingredients:
½ cup butter of choice, room temperature
½ cup coconut sugar
1 teaspoon vanilla extract
½ teaspoon salt
1 teaspoon Dandy Blend
1 cup flour (can sub for almond flour)*
2 tablespoons milk (or as needed)
Mini chocolate chips of choice, measure with your heart
Directions:
Add softened butter to a bowl, followed by coconut sugar, and mix.
Pour vanilla, salt, and Dandy Blend to the mixture and combine.
Add flour and mix until a crumbly consistency is formed, then add milk one tablespoon at a time until a dough-like consistency is achieved.
Stir in chocolate chips and let set in the fridge for about 30 minutes.
Enjoy by the spoonful or with cookies, graham crackers, or fruit.
*Coconut flour will result in a dry dough, you will need to add more milk to reach a cookie dough consistency
Happy Dipping!
To shop Dandy Blend and all our dandy offers, visit www.DandyBlend.com/shop.
*Disclaimer
Dandy Blend is not a supplement or medicine. Any health related questions or concerns, we always recommend consulting with your primary care physician.
*Banner image by @azerbaijan-stockers