Warm, delicious pancakes are the ultimate comfort food. Whether you're craving them for breakfast, a sweet treat, or late night snack, you can't go wrong with a good stack. The only problem is, even if you're in the mood for eating pancakes, you may not always be in the mood to make them. Luckily, with the internet's latest craze of frozen pancake batter, you can have ready-to-go pancakes whenever you want them.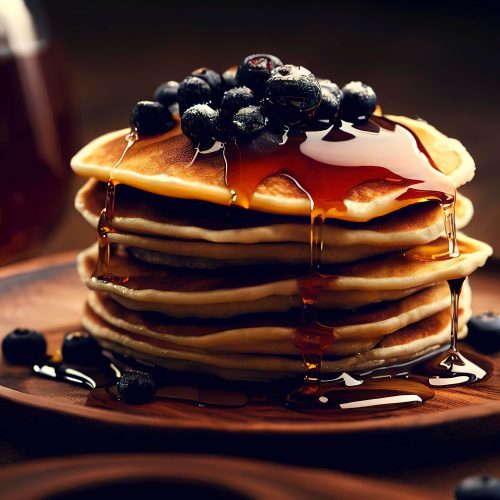 How to Make Freezable Blender Pancakes
There are a few simple ways to make frozen blender pancake cubes. You can simply whip up your favorite boxed pancake mix, or you can use our blender pancake recipe below. Our recipe calls for just a few basic ingredients—milk, one egg, flour, Dandy Blend, sugar, baking powder, salt, and fruit of your choice.
No matter what your batter of choice is, all you need to do is freeze your pancake mix in freezer-friendly molds, and they'll be ready to go. Be sure to only fill your mold up about half-way or you'll have trouble getting the batter to cook evenly.
Cooking Tips Using Frozen Pancake Batter
When you're ready to enjoy your frozen pancake batter, be sure to let them sit out on the counter for a little while. If you place them on heat straight from the freezer, they will end up being very crispy on the outside, and a bit gooey on the inside. But hey, if that's your jam, go for it! We recommend letting them sit for about 5-10 minutes, depending on the outside temperature, so that they're a bit soft before hitting the hot pan.
Another tip is that you will want to manage your pancake batter a bit more than usual. Instead of letting them sit until bubbly, you may need to move the frozen cube around a bit to avoid overcooking one portion of your pancakes. Just keep a close eye on them and they'll turn out great.
Recipe
Freezable Blender Pancakes Ingredients:
1 cup milk
1 large egg
1 ½ cup all-purpose flour (can sub 1:1 for gluten-free flour)
2 tablespoons sugar or maple syrup
2 teaspoons baking powder
1 teaspoon Dandy Blend
½ teaspoons kosher salt
Optional: fruit of choice
Directions:
Add all of your ingredients to a blender, except for fruit, if using.
If you're adding fruit to your batter, gently stir it in once all of the ingredients have been incorporated.
Pour into silicone, freezer-safe molds, only filling them up about half way.
Let freeze completely, overnight or at least 6 hours.
When ready to use, heat a pan over medium heat. Let your pancake cubes sit out for a few minutes before adding to a heated pan coated with butter.
Keep an eye on the batter, flipping once the bottom half appears cooked through.
Top with maple syrup and more fruit of your choice.
To shop Dandy Blend and all our dandy offers, visit www.DandyBlend.com/shop.
*Disclaimer
Dandy Blend is not a supplement or medicine. Any health related questions or concerns, we always recommend consulting with your primary care physician.