If you're like us and crave smoothies all year-round, this fall smoothie recipe is for you. There's nothing wrong with enjoying a tropical frozen beverage as the season starts to turn, but if you're looking for something a little cozier, you're in the right place.
This fall-inspired smoothie recipe is rich and grounding, and packed with sweet and spicy flavors that will rock your tastebuds. Be sure to read through all of our tips and tricks for making it exactly how you like your smoothie flavor and consistency.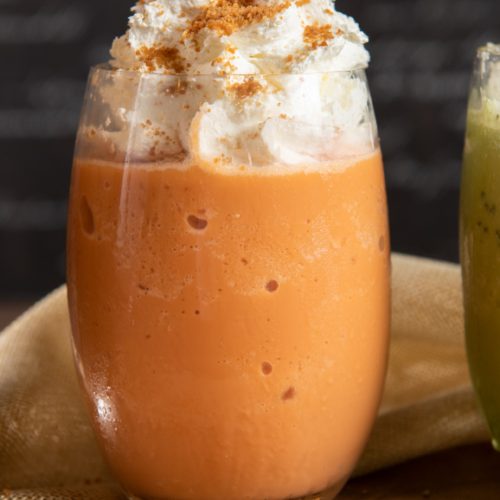 What is a Fall-Inspired Smoothie?
A fall smoothie is made up of delicious fall flavors. In this specific recipe, we're using frozen sweet potato as the base and spices like cinnamon and ground ginger to really drive the autumnal flavors home. In summer smoothies, the base is usually something tropical like banana or acai, and paired with loud spices such as cayenne.
How to make a Fall-Inspired Smoothie
This fall smoothie is so simple and delicious. The base is going to be your milk of choice and frozen sweet potato. Based on the fall flavors in this recipe, going with an almond or macadamia milk would pair best, but you can't go wrong with your go-to milk. As for sweet potatoes, you can buy them chopped and frozen, or you can boil or steam your own and chop and freeze them ahead of time. If you have the option to use Japanese sweet potatoes, these will provide the most mild flavor, whereas the brighter potatoes will result in a sweeter profile.
After adding the first two ingredients to a high-speed blender, you'll follow-up with a generous scoop of almond butter (or nut or seed butter of choice), some cinnamon and ground ginger, Dandy Blend, ground flaxseed, and vanilla. To add protein to this smoothie, we recommend a vanilla-flavored powder or a neutral hydrolyzed collagen. Lastly, add a large scoop of ice, and blend on medium-high. When your smoothie is about half-way done, add your cacao nibs and pulse until smooth. If you like a thicker consistency, keep the blender on as low of a setting as possible while using a tamper to encourage movement.
Pour into a glass, sprinkle with some extra cacao nibs, and enjoy.
Recipe
Fall-Inspired Smoothie Ingredients:
3/4 cup milk of choice (almond or macadamia would go well with the flavors)
1/2 cup frozen sweet potato
1 tablespoon almond butter (or nut or seed butter of choice)
1 teaspoon cinnamon
½ teaspoon ground ginger
1 teaspoon Dandy Blend
1 scoop vanilla protein (optional)
1 tablespoon ground flaxseed
1/2 teaspoon vanilla extract
2 tablespoon cacao nibs (plus more if using as a topping)
1 cup ice
Directions:
Add milk and frozen sweet potatoes to a high-speed blender.
Next, add almond butter, cinnamon, ground ginger, Dandy Blend, ground flaxseed, protein if using, vanilla, and ice.
Blend until half-way done, then add in cacao nibs and pulse until smooth.
Pour into a glass and sprinkle with some extra cacao nibs.
Enjoy.
To shop Dandy Blend and all our dandy offers, visit www.DandyBlend.com/shop.
*Disclaimer
Dandy Blend is not a supplement or medicine. Any health related questions or concerns, we always recommend consulting with your primary care physician.
*Banner image by @freepik