With pumpkin finding its way into just about every recipe under the sun, it's time we add it to muffins. These yummy, sweet, and slightly spicy pumpkin muffins are the perfect addition to breakfast, snack time, and parties. Plus, they're healthier than store-bought muffins thanks to the all-natural ingredients. We can't forget the best ingredient of all, though—Dandy Blend. Our favorite coffee alternative with roasted dandelion root extracts adds a little depth of flavor to these pumpkin muffins that you don't wait to miss out on. Make these with your extra can of pumpkin puree, and you won't be disappointed.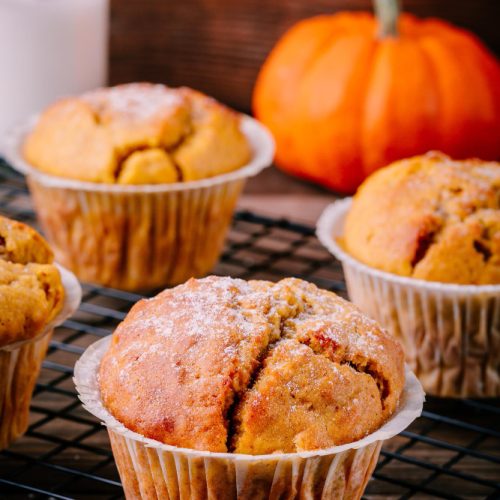 How to Make Pumpkin Muffins with Dandy Blend
These Dandy Blend pumpkin muffins are so easy to make. In less than an hour, you'll have a perfectly delicious pumpkin treat ready to go.
First, start by preheating your oven to 350°F and line your muffin tin with liners.
Next, gather all of your ingredients. You can use all-purpose flour or any gluten-free alternative. If you decide to go with a gluten free option, make sure that it specifies it's a 1:1 ratio to regular flour. (We like Bob's Red Mill.) Then you'll need some pantry staples including baking soda, Dandy Blend, ground cinnamon, ground ginger, salt, and olive or avocado oil. You'll also need maple syrup, canned pumpkin puree (not to be confused with pumpkin pie filling), eggs, and your milk of choice.
Finally, start by incorporating all of your dry ingredients together, then combine your wet ingredients separately. When it's time to mix them together, be sure to sprinkle the dry ingredients as evenly as possible over the wet ingredients. Gently fold them together, then distribute the batter into your muffin liners. Bake for about 20 to 25 minutes, let cool, and enjoy.
Recipe
Pumpkin Muffins with Dandy Blend Ingredients:
1 3/4 cups all-purpose flour (or 1:1 gluten free flour)
1 teaspoon baking soda
2 teaspoons Dandy Blend
1 1/2 teaspoons ground cinnamon
1/4 teaspoon ground ginger
1/2 teaspoon salt
1/2 cup olive or avocado oil
½ – ¾ cup maple syrup, depending on sweetness preference
1 1/2 cups canned pure pumpkin
2 large eggs
1/4 cup milk of choice
Directions:
Set the oven to 350°F and place liners in your muffin pan.
Whisk the flour of choice, baking soda, Dandy Blend, ground cinnamon, ground ginger, and salt together and set aside.
In a separate bowl, combine your oil, maple syrup, pumpkin, eggs, and milk.
Sprinkle the dry ingredients over the wet ingredients, and then fold until well combined.
Distribute the batter into the muffin liners. Be sure not to overfill, about ¾ of the way up the liner should be perfect.
Bake for 20 to 25 minutes, let cool, and enjoy!
To shop Dandy Blend and all our dandy offers, visit www.DandyBlend.com/shop.
*Disclaimer
Dandy Blend is not a supplement or medicine. Any health related questions or concerns, we always recommend consulting with your primary care physician.
*Banner image by @freepik