There's nothing better than sipping on a refreshing protein shake after a workout, long walk, or simply enjoying it as your first treat of the morning. It has everything you need – protein, carbohydrates, and healthy fat. A popular trend people are hopping on is adding caffeine to their protein shake to add a little buzz. With the adverse effects on sleep, you can't just have a coffee protein shake any time of day and expect to sleep well. What you can do instead is swap it for Dandy Blend.
Today, we're sharing a protein shake recipe that uses our beloved dandelion coffee blend in place of coffee. It's simple, versatile, and oh so delicious.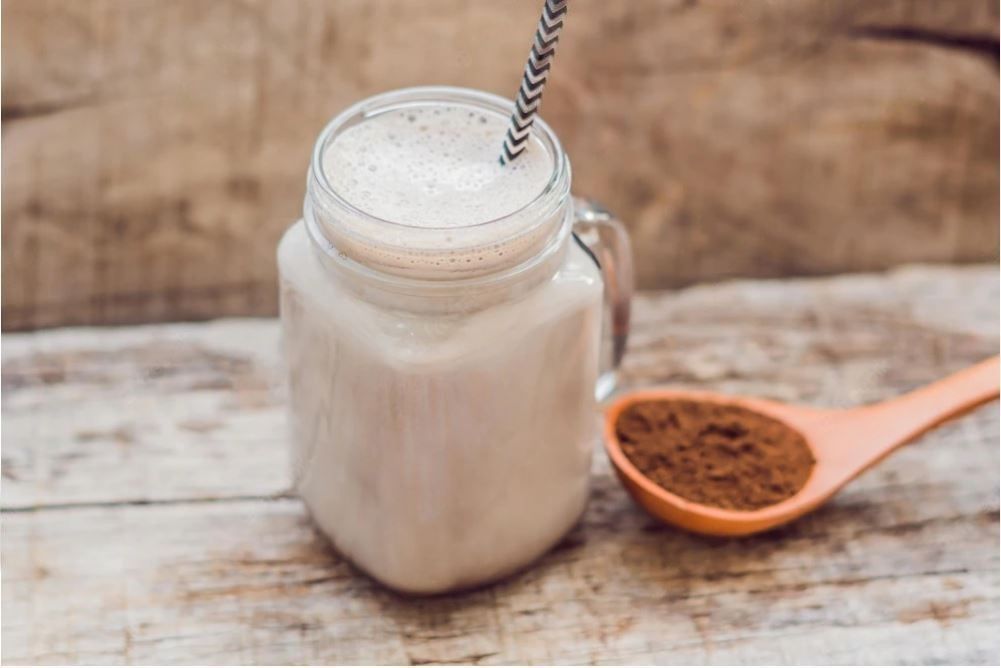 *Photo courtesy of galitskaya
Dandy Blend Protein Shake Recipe
This recipe is so simple and versatile. You can make it every single day and not get sick of it. It's delicious as is, or you can mix it up by adding blueberries, cacao powder, or honey for added sweetness.
First, start by gathering your ingredients. For this Dandy Blend protein shake recipe, you'll need one frozen banana, your favorite nut butter (we like almond or cashew), ground flaxseed, Dandy Blend, Greek yogurt, cinnamon, milk of your choice, and protein powder. You can use whatever milk or protein powder you like. If you prefer no dairy, try almond milk and a plant-protein powder, like pea protein. If you prefer dairy, try raw milk with a grass-fed whey protein. No matter what your preference is, this smoothie is going to turn out delicious!
Simply add all of your ingredients to a blender and blend on medium for about a minute. If you add ice, you may need to blend a little longer. Another way you can customize this smoothie is by adding toppings. Some of our go-to toppings are bee pollen, granola, crushed cacao nibs, more cinnamon, and sea salt.
You can enjoy this smoothie any time of the day and feel satisfied, healthy, and happy!
RECIPE
Dandy Blend Protein Shake Ingredients:
1 frozen banana
1 tablespoon nut butter of choice
1 tablespoon ground flaxseed
1 teaspoon Dandy Blend
¼ cup Greek yogurt
1 scoop protein powder of choice
A pinch of cinnamon
¾ – 1 cup milk of choice
Ice (optional)
Directions:
In the order listed above, add all of your ingredients to a high-speed blender.
Blend on medium for about 60 seconds, or until smooth.
Pour and enjoy! You can also add toppings like more cinnamon, bee pollen, or cacao nibs.
Happy Sipping!
To shop Dandy Blend and all our dandy offers, visit www.DandyBlend.com/shop.
*Disclaimer
Dandy Blend is not a supplement or medicine. Any health related questions or concerns, we always recommend consulting with your primary care physician.
*Banner photo courtesy of fahrwasser