There's nothing quite like a sweet, decadent, and delicious date shake recipe. The original combination of ice cream and dates started in Palm Springs—home to expansive farms that make up nearly 90% of the United State's dates. [1] Walk into any hotel or restaurant in the area and you'll find some variation of a date shake, all uniquely crafted with a chef's twist. While there's nothing like an authentic recipe straight out of the desert, we did our best to recreate a Dandy Blend-ified version that is just as tasty in its own right for you to make at home.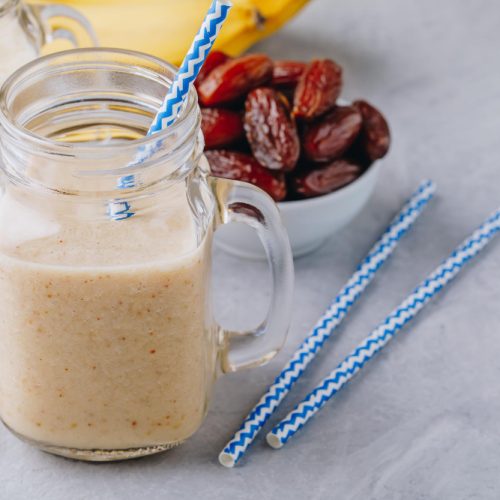 How to Make the Best Dandy Blend Date Shake Recipe
The key to any great date recipe is to soak the dates. Their thick outer layer can make them tough to chew through and blend, so softening them up helps give them a creamy, custardy texture. You can do this by soaking them in warm milk or water, it's up to you. We like using coconut or nut milk to enhance the nutty flavor in the shake.
Start by pitting and roughly chopping your dates. Then submerge them in your soaking beverage of choice—milk or water. While soaking, gather the rest of your ingredients. This includes Dandy Blend, vanilla extract or paste, cinnamon, nutmeg, salt, ice cream, and ice.
Once the dates have soaked for about five minutes, add all of the ingredients to a high speed blender (including the milk or water the dates were soaking in). Blend on medium-high until smooth. You will still have bits of date chunks throughout, don't worry, that's the best part. Split into a few glasses to share and enjoy.
Recipe
Dandy Blend Date Shake Ingredients:
½ cup milk of choice or water, warm
½ cup dates, pitted and chopped
1 teaspoon Dandy Blend
1 teaspoon vanilla extract or paste
¼ teaspoon cinnamon
⅛ teaspoon of nutmeg
Pinch of salt
1 cup of coconut ice cream
½ cup of ice
Directions:
Pit and chop dates, small chunks are perfect.
Then warm up your milk or water in a small saucepan or kettle. Pour over dates and let soak for a few minutes, until soft.
Add all of the ingredients (including the soaking liquid) to a high speed blender and blend until smooth. Small chunks of dates will still be present.
Divide into 2-4 servings and enjoy.
Happy Sipping!
To shop Dandy Blend and all our dandy offers, visit www.DandyBlend.com/shop.
*Disclaimer
Dandy Blend is not a supplement or medicine. Any health related questions or concerns, we always recommend consulting with your primary care physician.