Traveling is often an exciting adventure. You get to explore a new place, taste new cuisines, and get out of your comfort zone. With all of the fun that comes with traveling, it can also throw your body (and wallet) for a whirl.
If Dandy Blend gives you the same taste of home and comfort that it does for us, take a look at three of our favorite travel hacks for packing our delicious coffee alternative with you—whether you're road tripping or flying overseas.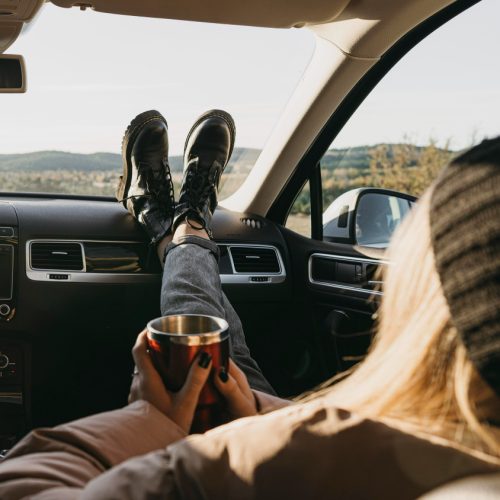 Why Travel with Dandy Blend
Sticking to your routines as much as possible while traveling is a great way to feel grounded and clear-headed. Having a little taste of home can make you feel at ease and support regularity. Plus, it's not always easy to find affordable or delicious caffeine-free options.
With our travel hacks, you can have your go-to drink of choice without feeling left out. We love that Dandy Blend is so accessible, no matter where you go. If you give any of these hacks a try, tag us online for a chance to be featured. (@dandyblend on Instagram and Facebook)
3 Ways to Travel with Dandy Blend
Here are three of our favorite travel hacks for bringing Dandy Blend with you on your getaways:
1. Dandy Blend Cold Brew
Preparing Dandy Blend ahead of time is a simple, time-saving way to enjoy our delicious dandelion extract-based coffee alternative on the go. Make as much Dandy Blend as you'd like, transfer to a tight-fitting jar or growler, and let chill in the refrigerator. Perfect for storing in a cooler for camping, road trips, and weekend getaways that don't require plane travel.
2. Dandy Blend Travel Sticks
Our compact, flying-friendly travel sticks make sipping on Dandy Blend accessible all around the globe. Pack as many in your checked or carry-on bag as you'd like, and just add to any kind of accessible liquid at any temperature whenever you're ready for it. It's the easiest, most accessible way to have a tasty caffeine-free alternative on you at all times.
3. Dandy Blend Ice Cubes
If you have a freezer or ice chest available to you for your next trip, making Dandy Blend ice cubes is a great way to level up smoothies, mocktails, and keep your Dandy Blend cold without watering it down. Make your Dandy Blend as usual, pour into an ice tray, then transfer to a large zip lock bag.
Happy Sipping!
To shop Dandy Blend and all our dandy offers, visit www.DandyBlend.com/shop.
*Disclaimer
Dandy Blend is not a supplement or medicine. Any health related questions or concerns, we always recommend consulting with your primary care physician.