You've probably heard of and fallen in love with penne alla vodka, but have you ever tried pumpkin alla vodka? It's the PSL of the pasta world, and it's a must-try sauce to add to your list of October recipes. Especially for any savory lovers out there, this is going to be a hit all fall long and we've got a twist for you by adding Dandy Blend!
What is Pumpkin Alla Vodka Sauce?
Pumpkin alla vodka is a take on penne alla vodka. Instead of using tomato as the base for the sauce, you'll use pumpkin for this recipe. It adds a rich, hearty depth of flavor to the traditional sauce and is the perfect seasonal dish for cozy nights in. We're sure this will make your top ten October recipes after trying.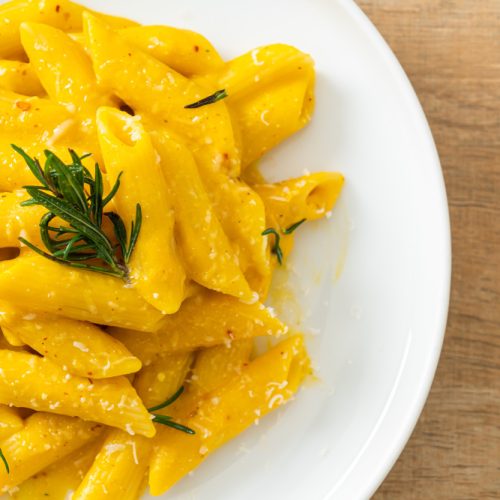 How to make Pumpkin Alla Vodka Sauce
The best way to make any sauce is to first prepare all of the ingredients. Start by mincing half a shallot and a whole garlic clove. Measure out your pumpkin, cream, and Dandy Blend, and have your spices on hand ready to go.
Next, bring a pot of water to boil with a generous amount of salt. Heat a pan over medium heat and add butter until just melted. Add your minced garlic and shallot and stir frequently until soft. Add your pasta to the boiling water, cooking until al dente. This is so that it doesn't overcook once added to the sauce.
Add the pumpkin, Dandy Blend, and red pepper flakes to the butter mixture and stir. The pumpkin can burn quickly so keep a close eye on it and turn down the heat as needed. Add the vodka to the sauce, scraping up any browned bits of garlic and shallot from the bottom of the pan. Once the pasta is nearly done, add a cup of pasta water to the sauce and reserve one extra cup for later. Stir the heavy cream into the sauce until combined, then fold in half of the parmesan cheese.
Once your pasta is ready, add it to the sauce and stir. If the sauce looks a bit dry, add more pasta water. Do this slowly as it can quickly get too watery. Once you achieve the desired thickness, serve with more parmesan cheese and chili flakes.
Recipe
Pumpkin Alla Vodka Ingredients:
3 tablespoons butter
½ shallot, minced
1 large garlic clove, minced
1/2 cup canned pumpkin (or fresh roasted and mashed)
1 teaspoon Dandy Blend
1/2 teaspoon crushed red pepper flakes
2 tablespoons vodka
1 box penne pasta of choice (reserve two cups of pasta water)
1/2 cup heavy cream
1/2 cup grated parmesan cheese, plus more for serving
Sea salt
Directions:
Bring a large pot of water to a boil and warm up a pan over medium heat while you gather your ingredients.
Start by mincing the garlic and shallot, then add butter to the pan. Once melted, add in the garlic and shallot, stirring until softened.
Add pasta to water and cook until al dente.
Add the pumpkin, Dandy Blend, and red pepper flakes to the pan with garlic and shallots, stirring frequently. Lower the heat if the edges start to burn.
Add vodka to sauce and stir, scraping up any garlic or shallots from the bottom of the pot.
Pour one cup of pasta water into the sauce followed by the heavy cream, stirring to combine.
Add half the parmesan and stir until melted. Turn off heat, add pasta, and stir again. Add more pasta water as needed, and sprinkle remaining parmesan and a pinch of sea salt.
Serve with more chili flakes and cheese to taste. Enjoy!
To shop Dandy Blend and all our dandy offers, visit www.DandyBlend.com/shop.
*Disclaimer
Dandy Blend is not a supplement or medicine. Any health related questions or concerns, we always recommend consulting with your primary care physician.