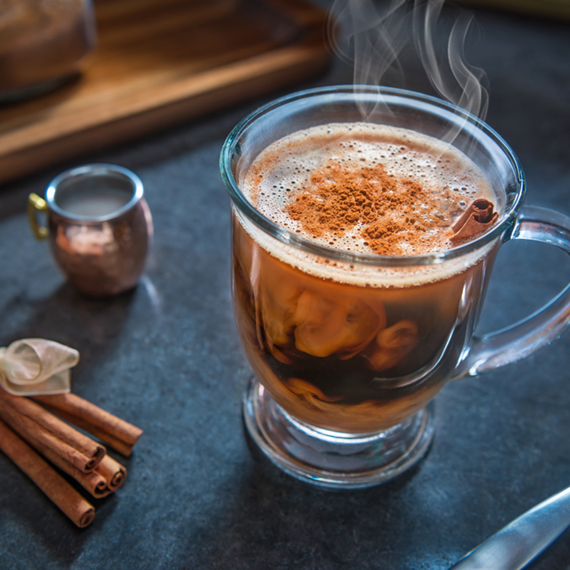 Dandy Blend is one of the most versatile beverages known. You can make any kind of gourmet coffee or chocolate blend with it, and it tastes just like the real stuff. This is a favorite of Cindy Moore, who demonstrates Dandy Blend for us in stores all over Northern Ohio
Ingredients
2 cups organic milk (or dairy alternative like coconut milk)
2 tsps. of Dandy Blend (more or less to taste)
1-2 tsps. dark unsweetened chocolate powder
Stevia powder to taste
Shake of cinnamon
Coconut oil (look up on the computer about coconut oil and it's benefits. There is no taste to the coconut oil. Cindy Moore uses 1 rounded tsp. per cup, but you could use up to a tablespoon. Coconut oil is healthy for you.)
Directions
Mix it up!
Enjoy
This makes a big coffee mug of Dandy Mocha Latte or reg. size for two people!
It is becoming clear that cinnamon is a most popular addition to Dandy Blend, both on its own and with chocolate. Barbara Kelly Geatches suggested mixing a scoop of Mexican Chocolate powder with Dandy Blend, which is a great idea, because the cinnamon is already included in the Mexican chocolate. The benefit of cinnamon is that it is an anti-inflammatory, and is great for those with osteoarthritis, as well as many other ailments (Google "cinnamon" and see what you learn!!).
Patsy Darmetko of Rockland MA (who buys her Dandy Blend at Good Health in Hanover MA) and Sandy Otton of West Chester PA ( who buys her Dandy Blend at Kimberton Whole Foods in Downington PA) also are cinnamon afficionados. They both suggest drinking it cold in the summer. Thanks to them for their ideas.