We all know the feeling of needing to fuel up, but not having enough time or hunger for a full meal. When you're on the go and need some protein, energy bites or bliss balls are great snack options. They're bite-sized, packed with protein, and don't contain refined sugar. Plus, they taste amazing.
Today, we're sharing our favorite go-to bliss balls recipe. It's an easy, good-for-you recipe that's perfect for adding to your meal prep routine when you have a busy week ahead.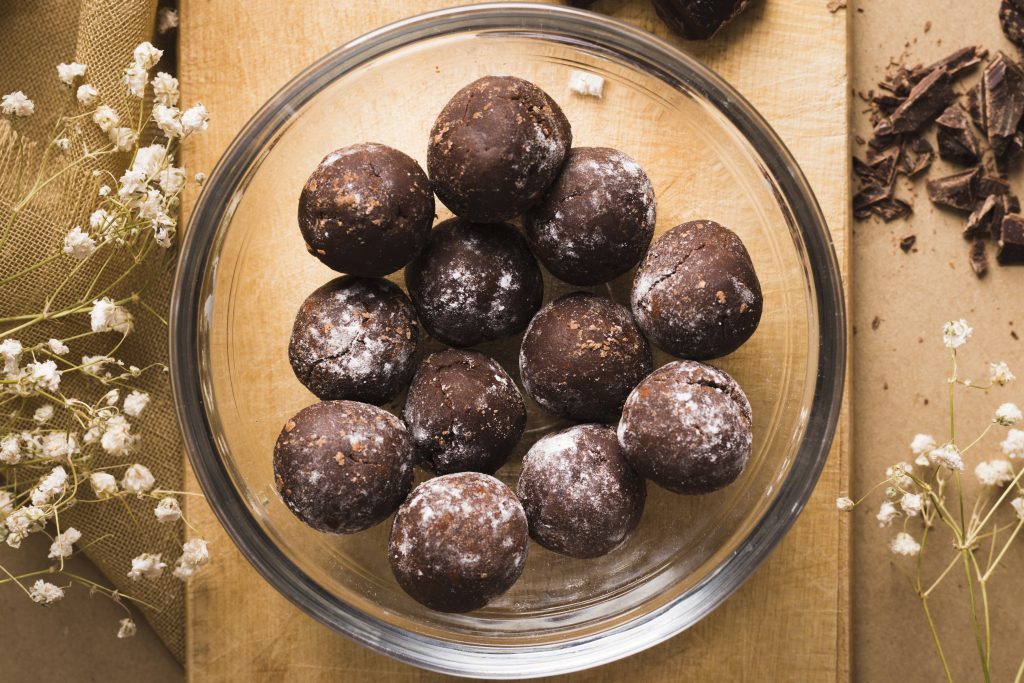 WHAT ARE BLISS BALLS
Bliss balls are another name for energy bites. Energy bites are small, donut-hole sized superfood balls that are meant to provide protein and calories when you're in a crunch for a healthy snack. They're a great way to keep your cravings at bay without sacrificing important nutrients, and they're perfect for grabbing on the go. Kids love them, too, so they're a yummy, healthy snack to add into school lunch boxes.
There isn't one original bliss ball recipe, and you can make them in all different flavors to fit your preferences. You can even alter our recipe to include or exclude things you like or don't like.
HOW TO MAKE BLISS BALLS
Bliss balls couldn't be easier to make. Combine all your ingredients into a food processor, shape, then refrigerate, and enjoy! Our recipe includes just 6 ingredients—nut butter, dates, hemp and chia seeds, protein powder, and of course, Dandy Blend.
The recipe is super versatile. You can swap the nut butter for sunflower butter, the dates for maple syrup, and the protein powder with hydrolyzed collagen.
If you do switch up the recipe, note that if it comes out too wet, you can add more dry ingredients, such as protein or collagen. If the mixture is too dry, you can add a bit of almond milk, more nut butter, or maple syrup. The consistency shouldn't be crumbly, but it will be a bit soft once out of the blender. Plus, they may get warm if blended for more than a few minutes. Don't worry, after you pop them in the fridge or freezer, they'll firm up.
Recipe
Dandy Blend Bliss Ball Ingredients:
1 cup nut or sunflower butter
3-5 pitted medjool dates
2/3 cup hemp seeds
1/4 cup chia seeds
1/4 cup chocolate protein powder (or flavor of choice)
1 teaspoon Dandy Blend
Toppings Ingredients:
2 oz. melted dark chocolate
1/2 teaspoon coconut oil
Pinch of sea salt
Directions:
Add all of the bliss ball ingredients to a food processor or blender until well combined.
Using an ice cream scoop or your hands, add rounds of the bliss ball mixture to a parchment paper-lined baking sheet or plate. Place in the freezer while you make the chocolate topping.
Melt the topping ingredients over the stove or microwave, until drippy.
Remove the balls from the freezer and drizzle with chocolate. Top with more hemp seeds or sea salt if desired.
Let it sit in the refrigerator for 30-45 minutes, then enjoy. Store in an airtight container in the fridge for up to 7 days or the freezer for up to 2 months.
To shop Dandy Blend and all our dandy offers, visit www.DandyBlend.com/shop.
*Disclaimer
Dandy Blend is not a supplement or medicine. Any health related questions or concerns, we always recommend consulting with your primary care physician.
*Banner image by @azerbaijan_stockers