With holidays around the corner, it is peak gift giving season. In addition to sharing your favorite coffee alternative with friends and family, you can throw in some fun Dandy Blend holiday gifts. We have all kinds of products and accessories that are perfect for stocking stuffers, last-minute gifts, and office gifting games.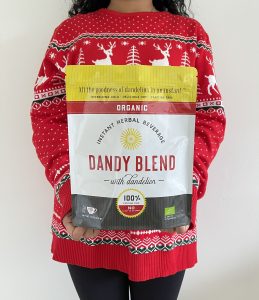 Our Favorite Dandy Blend Gifts
No matter who you're looking for holiday gift ideas for, you're sure to find something on the Dandy Blend website.
Insulated Tote Bag
For moms and friends that are always on the go. The Dandy Blend insulated tote bag is easy to carry, has plenty of pocket space, and keeps things cool (or hot) all day long.
https://dandyblend.com/product/insulated-tote-bag/
Dandy Blend Apparel
If you know a Dandy Blend fan, then you need to get them some of our apparel. We have a dad cap, hoodie, and a t-shirt to choose from. The shirt reads "Fine & Dandy" on the front because that's just how they'll feel after getting this dandy gift.
https://dandyblend.com/product-category/apparel-accessories/
Stickers
You can't go wrong with stickers. If you have a friend that always adds stickers to their water bottles, snail mail, or even their calendar, they need a few Dandy Blend stickers.
https://dandyblend.com/product/sticker-fine-dandy/
Dandy Blend Books
For the book worm in your family. We have a variety of books to choose from, including about dandelions, our founder Dr. Peter Gail, recipes, and more.
https://dandyblend.com/product-category/books/
Travel-Friendly Single Packets, also great as a Stocking Stuffer
Our Dandy Blend single packets are perfect for someone that's always on the go, traveling for work, or can never find anything they like to drink at a cafe. Unlike most instant beverages, Dandy Blend is hot and cold beverage-soluble. Thanks to its slender, petite size, it also fits perfectly as a stocking stuffer gift.
https://dandyblend.com/product/dandy-blend-individual-serving-packets/
Happy Sipping!
To shop Dandy Blend and all our dandy offers, visit www.DandyBlend.com/shop.
*Disclaimer
Dandy Blend is not a supplement or medicine. Any health related questions or concerns, we always recommend consulting with your primary care physician before trying this recipe.