Summertime is for sun bathing with a delicious chilled treat in hand. Something tasty, cold, and readily available. Store-bought desserts can include unnecessary sugars, artificial flavors, and dyes. While it's fun to indulge in nostalgic bites every now and again, we wanted to come up with something that satisfied our taste buds and our values. When brainstorming some of our favorite summer recipes, we thought about a delicious combination—root beer floats and popsicles.
This popsicle recipe is everything you could want. It has the earthy root beer flavor, creamy ice cream layer, and a delightful crunch of cookies and Dandy Blend. If you can believe it, it tastes even better than it sounds.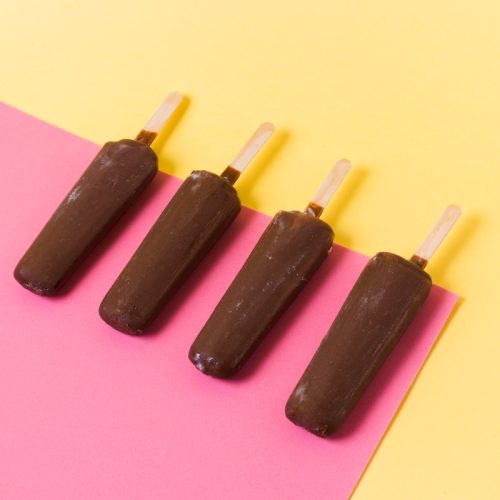 How to Make A Dandy Blend Root Beer Popsicle
For the amount of flavors packed in this treat, it's a surprisingly easy popsicle recipe. Start by thawing the ice cream you'll be using on the counter. Coconut ice cream will soften in about 20 minutes, whereas dairy-based ice cream will thaw closer to 10.
Next, add your favorite crunchy cookies (we're loving the Partake brand of cookies these days) to a plastic or silicone bag, then a generous spoonful of Dandy Blend. With a large mason jar or meat tenderizer, gently crush the cookies and Dandy Blend in the bag. Transfer to a small cup or jar.
Scoop a small layer of the cookie combination into each popsicle mold. Follow up with a small layer of your favorite root beer. We love Olipop's Classic Root Beer made with plant fiber and prebiotics. Pour gently to avoid it fizzing up too much. Scoop your ice cream of choice into the molds, pressing it down. Finish off with another light layer of root beer, then add the popsicle stick ends.
Freeze overnight or at least 5 hours. Enjoy as is or drizzle with chocolate sauce.
EASY POPSICLE RECIPE
Dandy Blend Root Beer Popsicle Ingredients:
4 crunchy cookies (Partake is an excellent cookie choice!)
1 tablespoon Dandy Blend
1 can of root beer (Olipop Classic Root Beer is our favorite!)
1 pint of ice cream of choice (we used vanilla coconut milk ice cream)
Directions:
Set ice cream out to thaw about 10-20 minutes before starting.
Add cookies and Dandy Blend to a sealed bag, and mash until a fine consistency.
Sprinkle a small layer of cookie mixture into the popsicle molds, followed by a small layer of root beer, and a generous scoop of ice cream.
Top off with a final layer of root beer and then seal with popsicle stick ends.
Freeze overnight or at least 5 hours.
Option to drizzle or dip in chocolate.
Happy Sipping!
To shop Dandy Blend and all our dandy offers, visit www.DandyBlend.com/shop.
*Disclaimer
Dandy Blend is not a supplement or medicine. Any health related questions or concerns, we always recommend consulting with your primary care physician.
*Banner image by @Anastasia Kazakova