Rice crispy treats are a nostalgic, delicious dessert almost everyone can appreciate. They're soft, decadent, and hit the spot when craving a sweet treat—especially in the summertime. As the years pass, we've started to pay more attention to what's in our food, including desserts. While we love the taste of rice crispy treats, we're not a fan of the ingredients.
Today, we're sharing a better-for-you version of everyone's favorite summer treat without the unwanted additives, plus our go-to caffeine-free coffee alternative, Dandy Blend.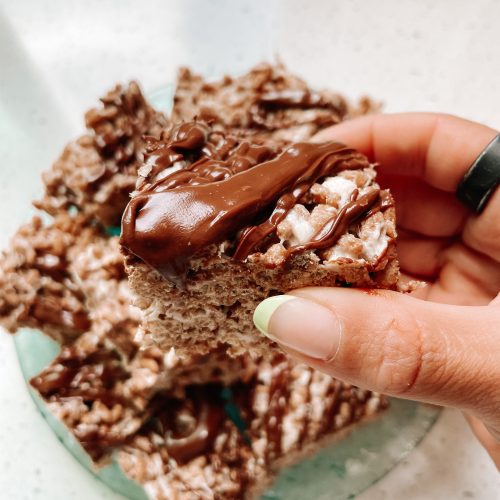 How to Make Dandy Blend Rice Crispy Treats
Making rice crispy treats is the ultimate "trust the process" recipe. Start out by softening your butter low and slow in a small saucepan, making sure it doesn't brown or burn. Then, add in vegan marshmallows until they melt into the butter. This process will be sticky and can take around 5 minutes, so be patient.
Once your butter and marshmallows are combined, add them to the chocolate puffed rice cereal. Mix until partially incorporated, then add Dandy Blend. Finish mixing until the marshmallow fluff is evenly distributed, then transfer to a parchment lined baking square. Be careful not to pat the mixture too compactly, or you will end up with dense treats. Just smooth the mixture around enough so that you fill the pan. For a delicious final touch, add a drizzle of your choice: chocolate sauce, Nutella, or nut butter. Let set for about an hour, cut, and enjoy.
Recipe
Dandy Blend Rice Crispy Treats:
2 tablespoons butter
20 large vegan marshmallows
3 cups cocoa puffed rice cereal
1 teaspoon Dandy Blend
Optional drizzle: chocolate sauce, Nutella, nut or seed butter
Directions:
Start by lining an 8×8 pan with parchment paper.
Add the cereal to a bowl and set aside.
Heat a small saucepan over low heat and add the butter.
Once melted, add the marshmallows. This process is sticky and takes a while, just keep stirring.
Once the butter and marshmallows are combined, add to the bowl of cereal. Sprinkle in the Dandy Blend, and stir until evenly distributed.
Transfer to the parchment paper lined pan. Evenly spread the mixture without pressing down too hard to avoid dense treats.
If adding a drizzle layer, coat a spoon in the topping of choice and pour over the top of the treats in whatever pattern you prefer.
Let set for about an hour, cut, and enjoy.
Happy Sipping!
To shop Dandy Blend and all our dandy offers, visit www.DandyBlend.com/shop.
*Disclaimer
Dandy Blend is not a supplement or medicine. Any health related questions or concerns, we always recommend consulting with your primary care physician.