There's nothing we love more than a healthy snack that both kids and adults can get excited about. These viral chocolate-covered yogurt clusters are as tasty as they are simple. They're the perfect item to throw together for lunch boxes, a casual dessert option, or as post-workout bites if you add protein.
We're sharing our favorite way to make these clusters, but you can switch up the recipe to include whatever you have on hand—white or dark chocolate, fruit or nuts, and with or without protein powder.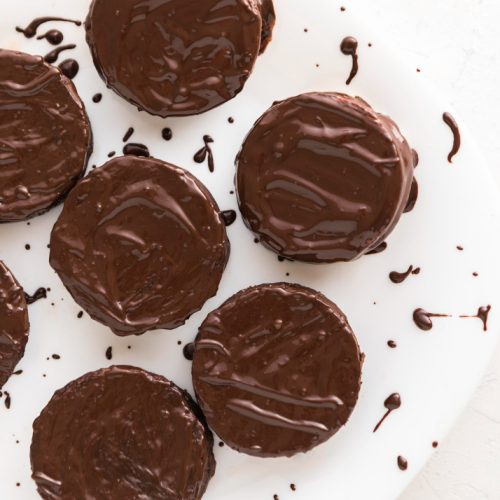 How to Make Chocolate-Covered Yogurt Cluster
Making these chocolate-covered yogurt clusters with Dandy Blend is so easy, you can even let your kiddos help. Gather your ingredients, starting with your yogurt of choice. We recommend a thick Greek-style option to avoid the clusters from running as much as possible.
Next, choose your fillings. We like halved blueberries, chopped up strawberries, or pomegranate seeds. You'll also need cinnamon, maple syrup, and then your chocolate of choice—white, milk, or dark—along with a bit of coconut oil to aid in the melting process.
Start by combining your yogurt of choice with the cinnamon and maple syrup. Don't overmix or it will become watery. Next, fold in your fruit of choice and add spoonfuls to a parchment lined baking sheet. Freeze for at least an hour. In the meantime, melt your chocolate with some coconut oil, then stir in your Dandy Blend. Let it come to room temperature.
Once your clusters are frozen, dip them into the chocolate, or drizzle on top, and refreeze for about 10-20 minutes. Enjoy immediately or transfer to a freezer-safe container for up to 2 weeks.
Recipe
Chocolate-Covered Yogurt Clusters Ingredients:
¼ teaspoon ceylon cinnamon
1 tablespoon maple syrup
½ cup chopped strawberries, halved blueberries, or pomegranate seeds
⅓ cup Greek-style yogurt of choice
1 cup chocolate chips of choice
1 tablespoon coconut oil
Directions:
Wash, cut and pat dry your fruit, if necessary.
Combine cinnamon, maple syrup, and yogurt in a bowl. Then fold in fruit.
Create small clusters with a spoon on a parchment lined baking sheet, then freeze for at least one hour.
Melt your chocolate and coconut oil over medium-low heat or in the microwave in 15-second intervals. Stir in Dandy Blend and let come to room temperature.
Once clusters are frozen, dip them in the chocolate or drizzle chocolate on top.
Let freeze for another 10-20 minutes, then enjoy.
*You may double or triple the recipe with the same measurements.
To shop Dandy Blend and all our dandy offers, visit www.DandyBlend.com/shop.
*Disclaimer
Dandy Blend is not a supplement or medicine. Any health related questions or concerns, we always recommend consulting with your primary care physician.